Win the Day Academy Group Coaching
00005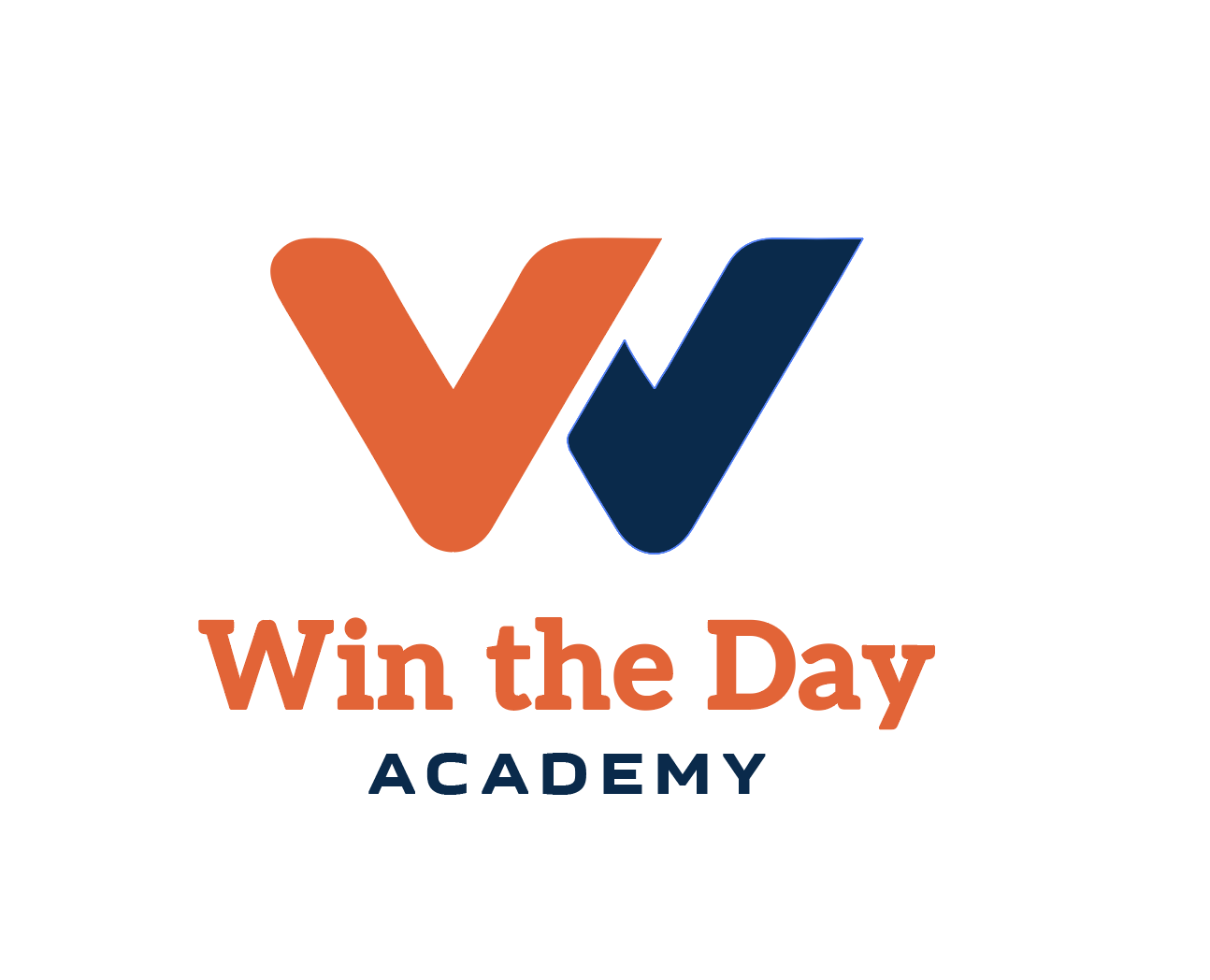 Win the Day Academy Group Coaching
Most coaches get into coaching for that winning on game day feeling and experience. We all wish that everyday could be game day. But, as we all know, most days are for practice, recruiting, and office work.
As coaches, we have a lot of people counting on us to do our job well so we need to be able to consistently bring our best self every day.
The problem I see is that most coaches aren't bringing their best because their days are filled with randomness, busyness, and putting out fires because there is no consistent way of doing things.
To be fair, it's not your fault. Have you ever been trained on how to work efficiently and effectively in the office? I know that I never did.
You and I both know that if you don't have a high level of focus, discipline to work on the right things, or a consistent way of doing things, you're wasting time and things are taking longer to finish so as a coach or as a program, you are probably stressed out, things aren't being done well, you are not getting the results you want, and you maybe haven't advanced as far or as fast in your career as you would like.
For the last 8 years I have been obsessive about trying and testing different time management strategies and methods. I have made a lot of mistakes but learned that the key to having your best season ever and what could separate you from your competition is winning those Monday's, Tuesdays, Wednesdays, Thursdays, and Friday's.
So, let's cut right to the chase, here's what the Win the Day Academy is all about:
I will be hosting a unique coaching group that will practically force our students to reduce chaos, get organized, and build stable programs run on systems and processes. We will cover all of the questions and address all of the problems that you have been talking to me about all year.
The program is designed with a very specific goal in mind: to help you remove chaos, get organized, eliminate waste, improve internal inefficiencies, build stable programs run on systems and processes, and create a way to continually measure and improve your methods as a coach in your program.
More than a self-development coaching course, Win The Day is a Full 12 Months of Online Mentoring jam packed with value delivered by PROVEN methods and SCIENTIFIC results. Plus it comes with an incredible community of people like you who work to keep each other accountable and make sure they achieve everything they set out to.
Here are the key WTD Academy details for this group coaching program- - $49 a month. (Pay in full option to get a discount)
This will be a Full Year Group Coaching Program that starts January 3rd, 2019.
For the 1st 4 months, we will do a live 1 hour interactive video group coaching sessions 1x a week on Monday's at 1pm EST.
For months 5-12, we will meet on the 1st Monday of the month to check-in, hold you accountable, answer questions, and make sure you are making progress.
You will get 52 weeks of productivity, execution, and performance coaching from me through your email. I will be pulling back the curtains to show you how to structure your days and life so that you could cut the learning curve and start off with the right blueprint!
You will get 6 private one-on-one consulting sessions with me, Mandy Green.
You will get the recordings of all sessions if you can't be there in person.
You will get access to a dropbox folder that has dozens of examples of tried and tested procedures, checklists, and systems specifically for coaches that work!
Private Facebook Community for group support, I will be in there coaching and will provide weekly activities to continue getting results and momentum. Plus, another group of awesome coaches to connect with)...
Plus much more!
Bonus:
You will get open access to my computer and get copies of all of my templates, scripts, checklists, plans, and recruiting emails.
You will get all 5 of my Busy Coach books
Daily Planner for Coaches
Time Management Workbook for coaches
Kick-Ass Recruiting Workbook for Coaches
30 Day Productivity Habits for Coaches
Tracking Journal so you can track and measure your important coaching metrics.
I have personally consulted or coached hundreds of coaches over the last 6 years. I will work with you in a small-group setting over the next 4 months to help you transform your program into a well-oiled machine that allows you to improve your results while working less.
What We'll Cover in the 17 Sessions
1. Session #1: Get the Paradigm Shift that will Transform Your Life , Your Recruiting, and Your Program
2. Session #2: Build a Program and Recruiting Strategy that Lasts.
3. Session #3: Get Everyone to Do things the Right Way, Every Time.
4. Session #4: Get Your Program Running Like a Well Oiled Machine During the Season
5. Session #5: 12 Months of No Recruiting Stress
6. Session #6: Develop Your Recruiting System for Maximum Results
7. Session #7: Get Back Control Over Your Email
8. Session #8: Create Systems to Perfect Internal and External Recruiting, Team, and Staff Communications
9. Session #9: On-Campus Visit and Getting the Commitment Systems
10. Session #10: You Got Them to Commit, Now What?
11. Session #11: Off-Season Systems
12. Session #12: The Smart Way to Hire, Train, and Get the Best From Your Team
13. Session #13: Perfect the Strategy for Staff Buy-In and Growth
14. Session #14: Simple Productivity Strategies for Busy Coaches
15. Session #15: Play to Win – Create Compelling Scoreboards
16. Session #16: An Amazing Coaching Life Starting NOW!
17. Session #17: How to Make Your Systems More Potent with Time
The program is designed with a very specific goal in mind: to help you remove chaos, eliminate waste, improve internal inefficiencies, and create a way to continually measure and improve your methods as a coach in your program.
I also want to save you the thousands of dollars and hours that it took me to learn this stuff.
I am opening up my computer and will be giving you all my best recruiting plans, emails, templates and checklists. You will get to see how I set things up and then I will work with you to customize it so it fits your situation, which will save you a lot of time and effort because you won't have to create something brand new from scratch.
I will work with you to:
Create coaching, personal, and operational systems and procedures so you can quickly work through low-level necessary work that has to get done and have more time to focus on program building activities. I will give you every checklist and working procedure that I have ever created which will help guide you through the process of setting this up for yourself much quicker.
You will plan and set up a year's worth of recruiting communication and social media messages. I will be giving you a year's worth of already written recruiting letters for you to use as templates. All you need to do is tweak them so they fit your situation.
Create and refine your programs operating strategy so that it aligns with your staff, team, and recruits and is set up to constantly improve and scale.
Setup your program so that it can run well without your constant intimate involvement or if you have staff turn-over.
Develop automated recruiting systems that will help deliver a "wow" experience to your recruits.
Grow and develop your staff through the creation of program principles and measurement systems.
Help you focus on the most valuable activities in your program saving you massive amounts of time.
Take the necessary steps that will allow you to be in complete control of your program and team so you can enjoy more peace and less stress.
And much more!
Win The Day - which will continue for a full 12 months - is priced as an Extremely Affordable, yet top-tier coaching program... This program comes with inspiring content and scientific lessons that will deliver significant levels of value to you in an online community of like minded people. Containing all of the content and bonuses described above, WTD is ONLY a single Investment of $500 or you can pay $49 a month!